Mount Hood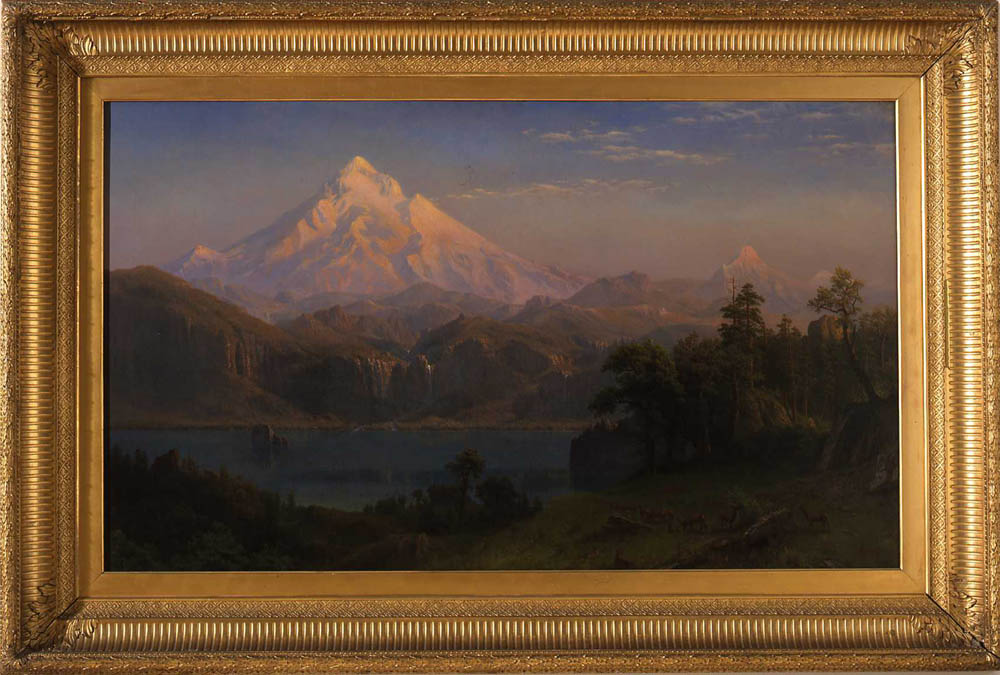 Albert Bierstadt, Mount Hood, 1869, oil on canvas, Gift of Henry Failing Cabell, public domain, 53.21
This work is on view.
Title

Mount Hood

Artist

Date

1869

Medium

oil on canvas

Dimensions (H x W x D)

51 in x 60 1/4 in

Inscriptions & Markings

signature/maker's mark: signed and dated, lower right: Bierstadt 69

Collection Area

American Art

Category

Paintings

Object Type

painting

Culture

American

Credit Line

Gift of Henry Failing Cabell

Accession Number

53.21

Copyright

public domain

Terms

Related Places

Depicts: Oregon

Depicts: Hood, Mount

Location
Albert Bierstadt's fame came from his dramatic landscapes of the American West. He composed paintings in his New York and London studios from the sketches, notes, and small oil studies that he made during his extended travels across the western United States. The resulting works are designed to give urban viewers a sense of place rather than a realistic record of a particular location.

In Mount Hood, Bierstadt characteristically exaggerates the height of the mountain and includes several landscape elements that could not be viewed from a single site along the Columbia River Gorge. For example, Mount Hood is painted as though seen from the northern shore of the Columbia River and Multnomah Falls, but the profile of the mountain is actually the one seen from Portland, and featured in a Childe Hassam painting nearby. The drama and monumentality of the far West, as a metaphor, was more important to Bierstadt than geographic accuracy.