Procession (Reconfiguration)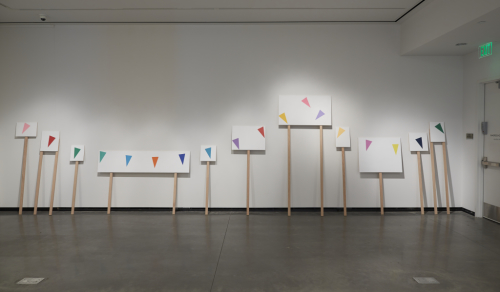 Amalia Pica, Procession (Reconfiguration), 2016, acid free paper, acrylic, and wood, Museum Purchase: Contemporary Art Purchase Fund, © unknown, research required, 2017.2.1a-k
This work is not currently on view.
Title

Procession (Reconfiguration)

Artist

Date

2016

Medium

acid free paper, acrylic, and wood

Dimensions (H x W x D)

91 in x 290 in

Collection Area

Modern and Contemporary Art

Category

Sculpture

Object Type

installation

Culture

Argentine

Credit Line

Museum Purchase: Contemporary Art Purchase Fund

Accession Number

2017.2.1a-k

Copyright

© unknown, research required

Terms
Pica explores issues of communication, civic participation, and the limits and failure of speech. These concerns meet the ritualized actions of public demonstrations in Procession (Reconfiguration), a work that combines the forms of placards with the festive decoration of bunting. The signs depict a spirited arrangement of colors rather than the slogans we might expect to see; the cheerful alignment suggest a moment of serendipity in the noise of a protest. Pica's art often centers on a wordless moment, a pause pregnant with the potential for declaration, yet remaining suspended in silence. Colors and shapes become important symbols in this quiet realm, substituting a visual chromatic language for the audible assertion of words.