Craftsmanship and Wit: Modern Japanese Prints from the Carol and Seymour Haber Collection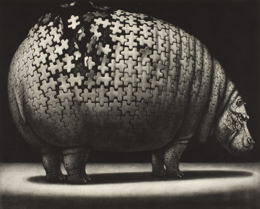 Sakazume Atsuo (Japanese, born 1941), Safari Land—Satiation, 1983, mezzotint, The Carol and Seymour Haber Collection, © Sakazume Atsuo, 1999.69.15
2017
Craftsmanship and Wit celebrates the diversity and creativity of modern Japanese printmaking. The 30 works on view, many presented here for the first time, reflect the vision of the late Carol and Seymour Haber, longtime patrons of the Portland Art Museum. The Habers had a keen eye for quality, a wicked sense of humor, and a deep appreciation for the diverse array of subjects, techniques, and aesthetic sensibilities that characterize twentieth-century Japanese prints.
One of the earliest movements in modern printmaking in Japan was the Creative Print (sōsaku hanga) movement. Pioneers like Munakata Shikō and Hiratsuka Un'ichi reinvented the medium of woodblock printing—a highly developed art form in Japan since the early seventeenth century—through bold carving techniques and a new emphasis on individual creativity. The principles of self-expression they advocated found new life in the hands of a new generation of woodblock printmakers, including Sasajima Kihei, Azechi Umetarō, Sekino Jun'ichirō, and Kurosaki Akira.
Other artists embraced techniques less known in traditional Japan such as etching, mezzotint, lithography, and screenprint. Hamanishi Katsunori and Sakazume Atsuo create rich tones of light and shadow in virtuosically large mezzotints, while Saitō Kaoru, Norikane Hiroto, and Sakamoto Kōichi play with more intimate proportions.
Maki Haku, Tajima Hiroyuki, and Iwami Reika explored ideas of abstraction and surface in prints that were highly tactile and labor-intensive to produce, combining established techniques like blind embossing with experiments in new materials, such as heavier oil pigments, driftwood, cardboard, or even cement. Similarly, ceramics by Fukami Sueharu and Sasayama Tadayasu seem to invite our touch, even as they illustrate contrasting approaches to tactility, texture, and form.
The Habers befriended many of the artists they admired. They often acquired multiple works by individual printmakers and invited artists to visit them at their home. Many personal touches—such as the dedication written by Kurosaki Akira—can be found in the collection. These material traces testify to the special rapport between the collectors and artists over many years. In this 125th year of the Museum, we honor the importance of donors in building and strengthening our collections.
Organized by the Portland Art Museum and curated by Jeannie Kenmotsu, Ph.D., Japan Foundation Assistant Curator of Japanese Art.
Curated by Jeannie Kenmotsu
Exhibition Title

Craftsmanship and Wit: Modern Japanese Prints from the Carol and Seymour Haber Collection

Date

2017

Curated by

Jeannie Kenmotsu

Organized by

Portland Art Museum

Begin Date

2017-11-04

End Date

2018-06-17